Personalized LGBTQ+ Pride Flags: Uniquely crafted with photos of you, your loved ones, or even your pet!
Regular price
$149.69 USD
Regular price
$200.00 USD
Sale price
$149.69 USD
Unit price
per
Sale
Temporarily Sold out
How to Get Your Special Flag:
Count the Creatures: Decide how many human or pet faces you want in the picture. 
Pick a Shape: Do you want it tall (portrait) or wide (landscape)?
Choose a Flag: Type the name of a special flag like "gay flag" or "transgender flag". Refer to https://www.hrc.org/resources/lgbtq-pride-flags for all your options. 
Send Your Photo: Make sure your photo looks really clear but is less than 10MB in size.
Buy It: Click the button that says "add to cart" and then pay for it.
Next, our special artists will digitally recreate your photo and email you a mockup for your for approval. Upon acceptance, it will be printed on the flag you chose and shipped directly to you or your loved one.
This personalized flag can be customized for any event or purpose such as:
Birthdays and Celebrations:
As a special birthday gift for someone coming out or embracing their identity.
Weddings and Anniversaries: Displaying the flag at the entrance or as a backdrop, showcasing the couple's journey and shared identity.
Housewarmings: Great gift as a piece of decorative art that tells the story of the occupants and makes their home feel even more personal.
Pride Events: Beyond pride parades, at workshops, seminars, or any community gathering, showcasing personal stories or journeys.
Memory Flag: To remember and honor LGBTQ+ loved ones who have passed away.
Graduation: Celebrating the completion of a milestone with the acknowledgment of one's identity.
Gift to a Loved One: Offering it as a token of understanding, acceptance, and support to a friend or family member.
Theater and Performance Art: As a backdrop or a prop for a performance piece that addresses LGBTQ+ themes or stories.
Businesses and Offices: LGBTQ+ friendly spaces or businesses can use these flags to show their support, especially during pride month. Can be customized with your business logo.
School and College Events: To promote inclusivity and acceptance during special events or in LGBTQ+ clubs.
Personal Inspiration: Keeping it in personal spaces like a study or workspace to draw inspiration and strength from one's journey.  
It's a special item that means a lot to everyone in the community. Remember, making each flag takes a while because it's crafted just for you, but it's totally worth the wait! Imagine having a one-of-a-kind piece of art that's yours alone, which you can use in many ways.
This 36"x60" wall flag is made of 100% polyester knit; equipped with grommets for an authentic look and feel. The flag is a one sided print perfect for many applications but indoor use is suggested when used for permanent display to maximize the life of the flag.
It takes lot of effort to create these flags, so be sure to take advantage of the sale before it ends.
Every member and supporter of the LGBT+ community deserves a unique pride flag to proudly showcase their identity. No matter your affiliation or if you're championing awareness for the broader LGBTQIA community, we're here to help create the perfect custom flag for you.

You should always stand proud of your sexuality. It's a natural part of you. Raise your flag high, and let the world see and celebrate who you truly are!!
"My wife surprised me with this custom made flag on our wedding day. It's the best gift I've received"
- Suzy
There won't be "THEPRIDECOLORS.COM" text on the flag. If you want it or any other text, you can leave a note on the cart page. 
Frequently Asked Questions:

1. Can I have a different flag, for example the bisexual pride flag? A: Yes, all you have to do is leave a note on the cart page. Refer to https://www.hrc.org/resources/lgbtq-pride-flags for all your flag choices. Note: the main art will still have the default colors, we'll only add the bisexual flag on the background.
2. Are these flags washable? A: Yes!
OUR GUARANTEE: 
We truly believe we have some of the best products in the world. If you don't have a positive experience for ANY reason, we will do WHATEVER it takes to make sure you are 100% satisfied with your purchase.
If you have any problems, just leave a quick message using the contact us page and we'll help you out in the best possible way!
Contact Us Here Or Email us at support@thepridecolors.com
Get your photo painted on any of these flags - pride flag, lesbian flag, bi flag, trans flag, bisexual flag, gay flag, lgbtq flags, non binary flag, pansexual flag, asexual flag, genderfluid flag etc. Get a custom pride flag from ThePrideColors! Perfect for pride parades, pride events, and showing off your pride for bi, pan, transgender, lgbt, lgbtq, non binary, queer, asexual, omnisexual, pansexual, gay, lesbian, bisexual, straight, genderfluid, demisexual, genderqueer, gay pride, transgender pride, bisexual pride, pansexual pride. Custom Rainbow Art - Pride Flags, Event Flags, Gay Wedding Flags, Custom Prints, Unique Gifts. Show your pride with a custom pride flag or event flag created by ThePrideColors.
Share
Important Check List

PLEASE READ INSTRUCTIONS BELOW FOR THE BEST QUALITY FLAG!

Please provide us with a valid email id on the checkout page. It is very important for us to get in contact if there are any issues with the order.

 

If you want a full body portrait, be sure you upload a photo that was captured from head to toe. And only order a portrait flag. If you order a landscape flag, we'll crop your image and make a head to waist or shoulder art. Full body art won't look good on a landscape flag.

NOTE: If you need an art with two people on it, please pick "2" under "number of faces" option. If you need a flag for 3 faces, pick 3, etc. Indoor Use Is Suggested to Maximize the Life of the Flag.

Upload a high quality picture for the best results, be sure the figures in the picture are not cropped from any sides. See example below.
Shipping

Shipping is free for the US and $10 for the rest of the world. It will take around 30-40 days for the flag to be delivered. Every flag is handmade and therefore takes time.
Return policy

We do not accept refunds or returns on for this particular product because it takes a lot of time and effort making these custom handmade flags. But if you're unhappy with our products, reach out to us we'll help you out. Contact Us Here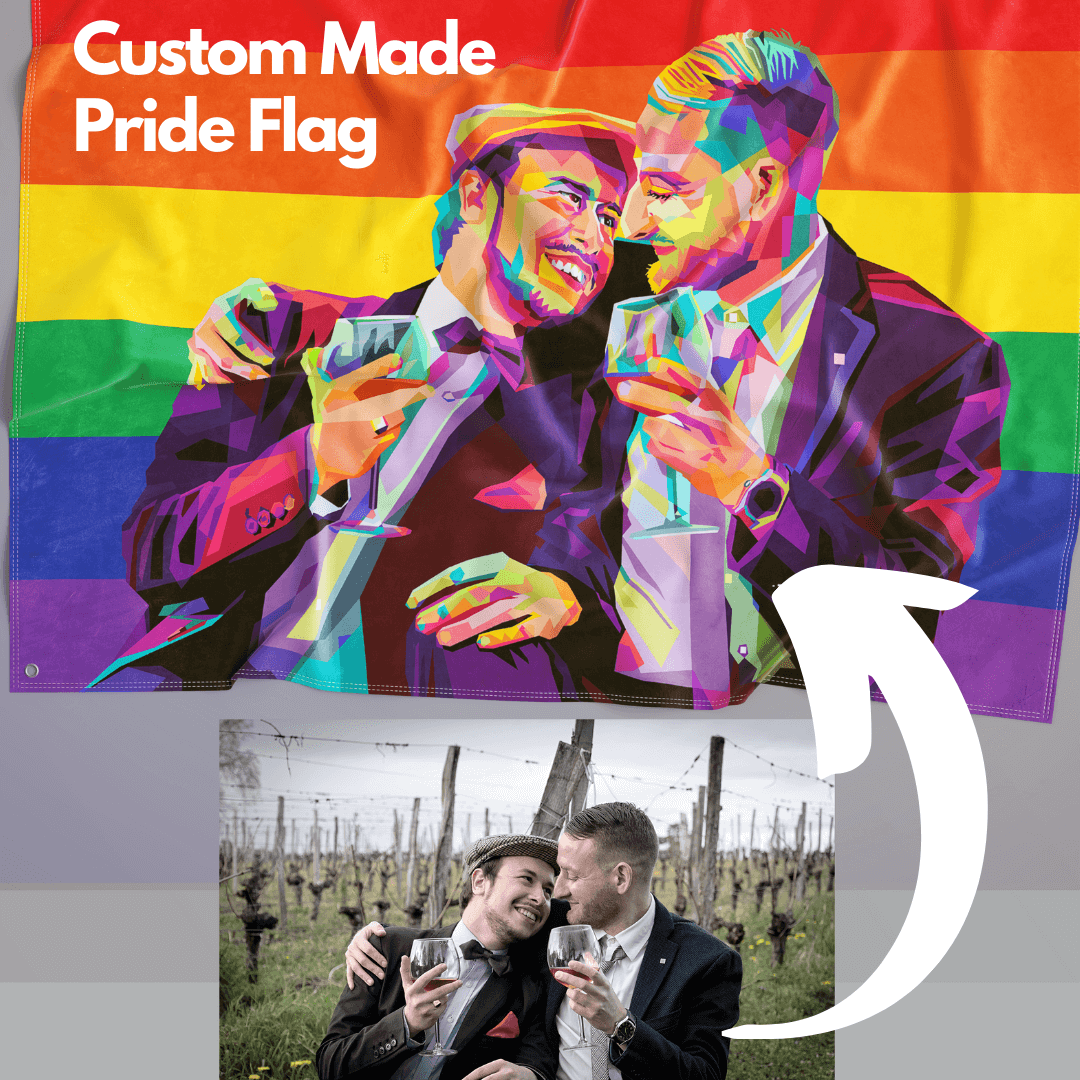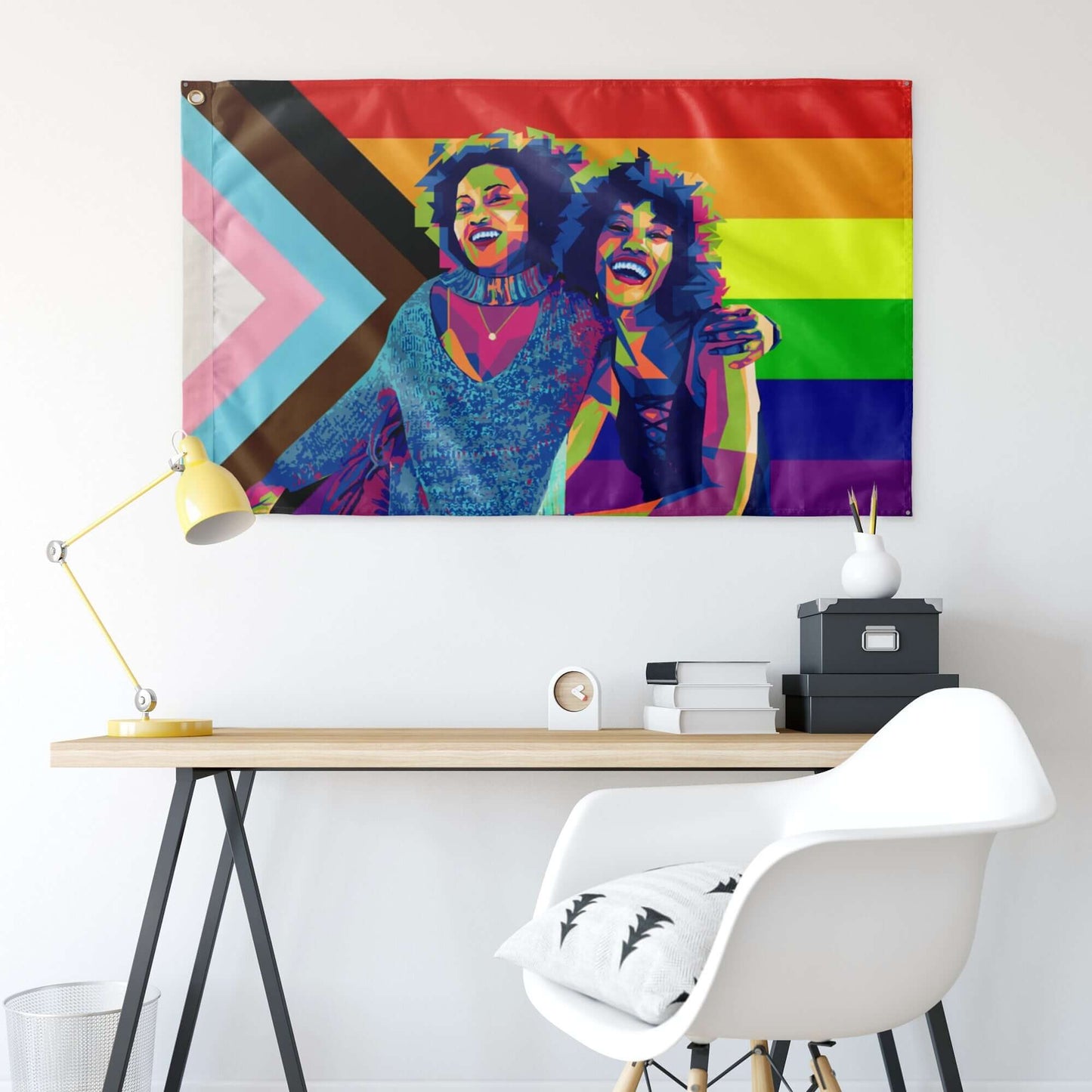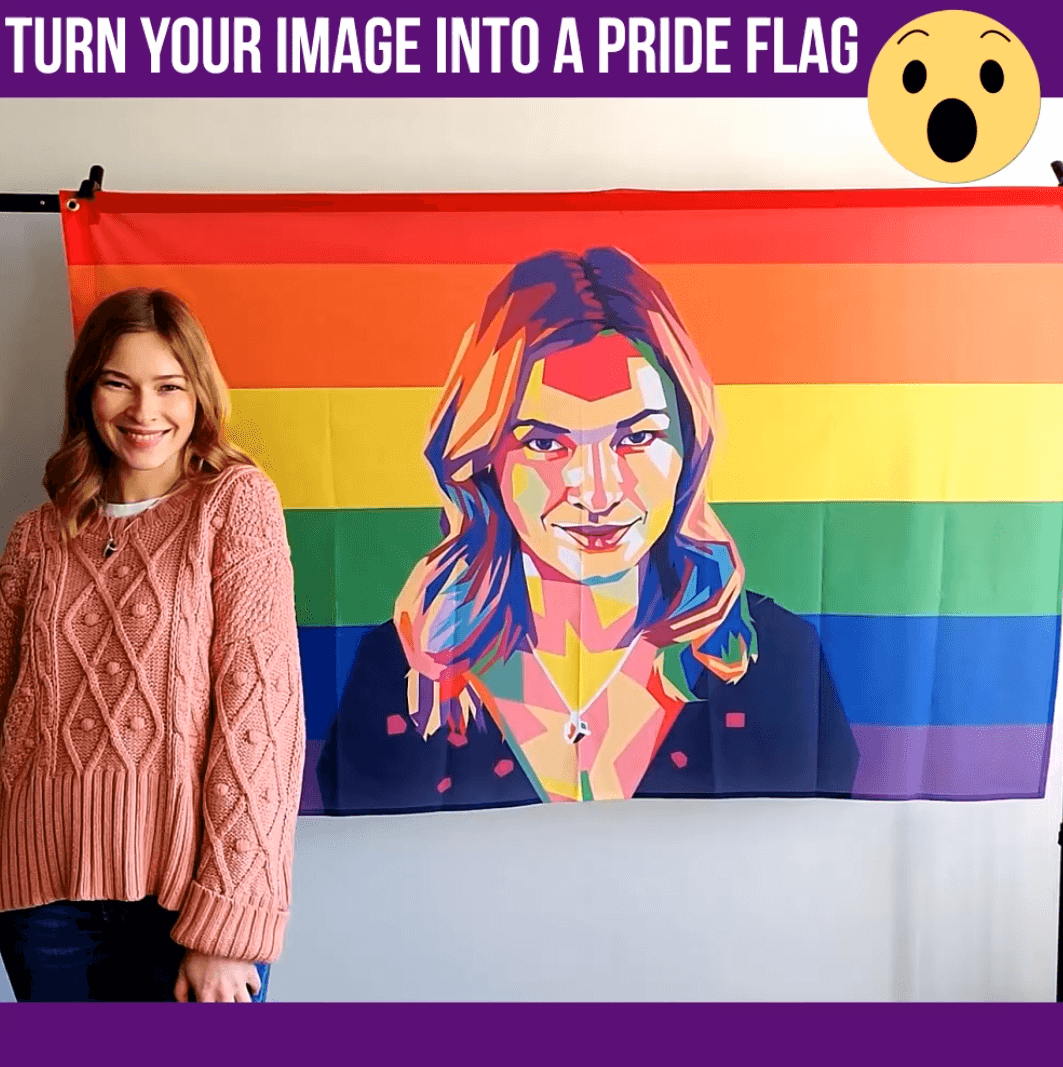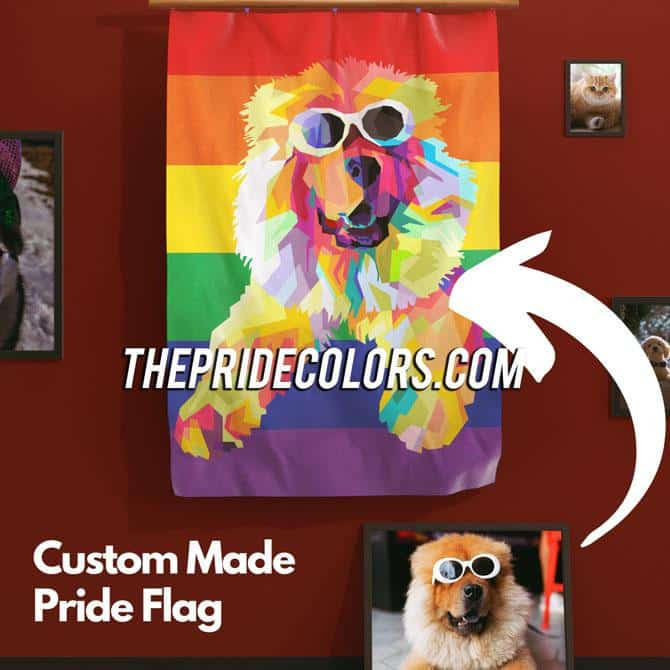 Great gift
Looks very nice, it is going to make a great Christmas gift.
Love the flags!
I ordered 2 flags and they came out amazing! The quality and detail is incredible. Definitely worth getting. Will order more in the future
Excellent product and service
I ordered a pride flag for my daughter. The flag arrived much quicker than I expected and looks outstanding. My daughter could not be more happy with the gift! I strongly recommend this product!
Amazing
So happy with the flag. Can't wait to give it as a gift.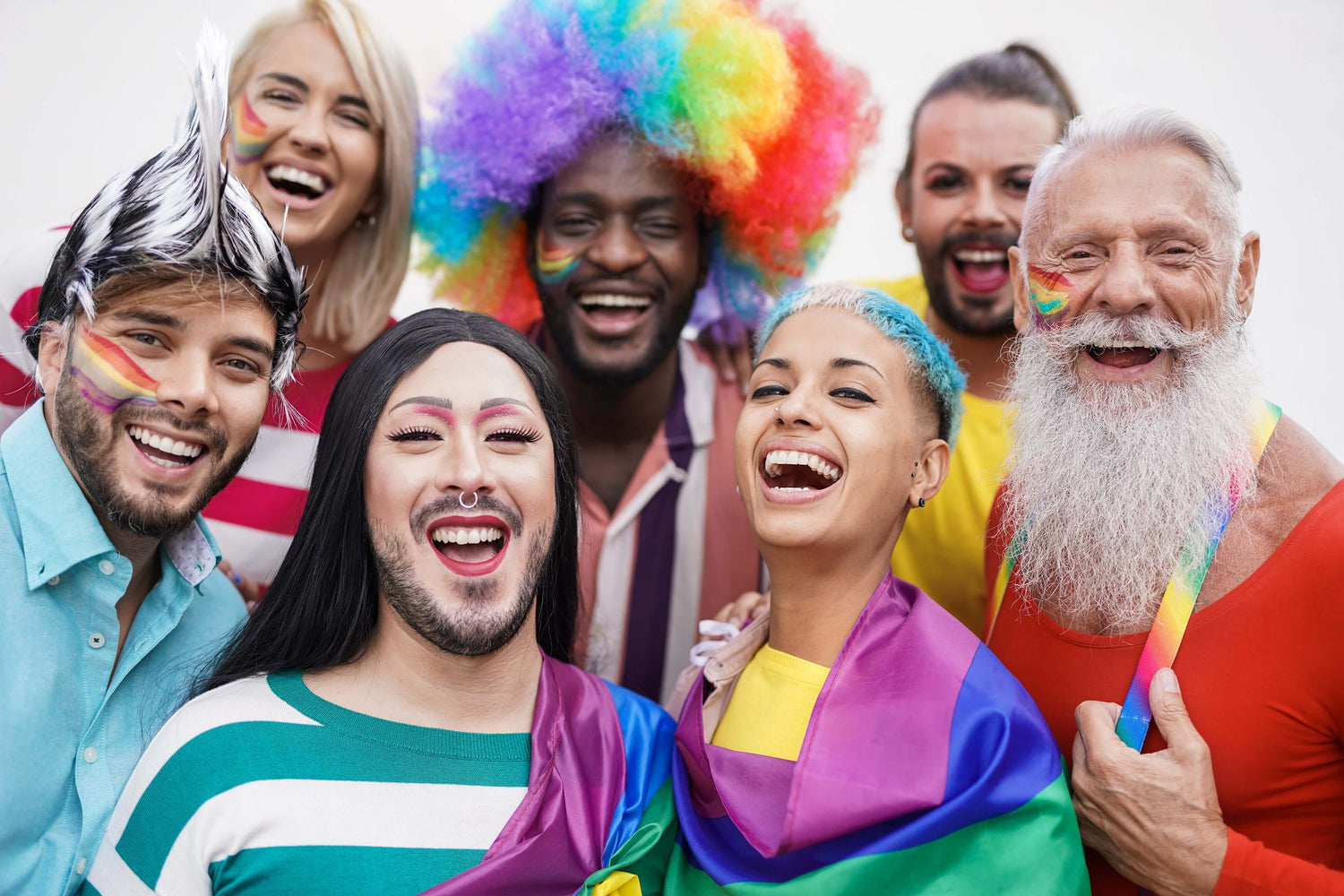 For The Community
We donate a percentage of every sale to the various LGBT+ non profit organizations. Most companies share a percent of profits. But we donate 5% of every sale, doesn't matter if we make profits or not.